A survivor celebration can be a wonderful event for your community. They serve myriad purposes: celebration of the second chance at life accorded the survivors, with an opportunity to thank their rescuers; promoting awareness of sudden cardiac arrest among members of the community; and bringing a community together at all levels to celebrate awe-inspiring accomplishments.
The best survivor celebrations focus on the survivors first and foremost, and the rescuers both professional and bystander, second. They are non-denominational, without agency identification or boundaries, and all inclusive. Families, hospital personnel, EMS personnel, 911 dispatchers, police, fire, and bystanders are among the most common attendees.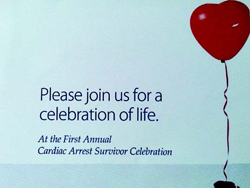 Planning a celebration
Like any gathering, it is about the people who attend–not the food, drink, door prizes or entertainment. While it is important to understand that some survivors may choose to decline, ensuring that all survivors have the opportunity to attend if they wish is critical.
A poignant story
While planning the first survivor celebration for Spokane Washington in 2012, Cathy St. Amand learned that one of the older survivors who lived 2 hours away could not attend. The man had 83 experienced his SCA while visiting Spokane. The man's wife had written a lovely note to the EMS system, thanking them for all they had done for her husband, and expressing their regret at not being able to attend due to the long drive. The EMS agency ultimately sent a supervisor's car to their house the afternoon before the event, picked them up, took them to lunch, and delivered them to the celebration right on time. At the ceremony the couple read their note aloud to the EMS providers and sported the biggest smiles of all the attendees. The note read: "…How do you thank someone who gave you more time…the opportunity to live life to the fullest?"